Shure MV7 mic – Pro level audio at under $250!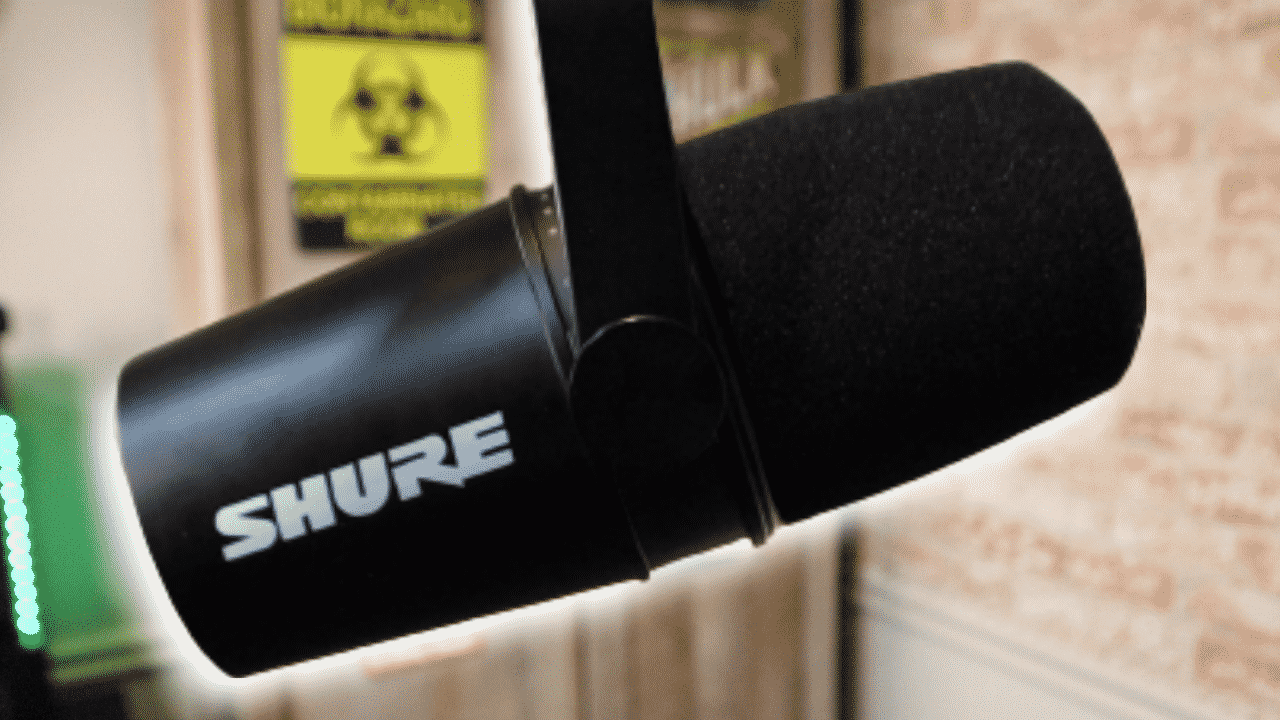 As a professional podcaster, I never thought I will see the day that I will replace my Shure SM7B mic, but that day has come.
For the past several years, I have been using the Shure SM7B mic. It is the industry standard. It the same mic you see all the big professional creators use due to its incredible sound and versatility.
To be honest, I never thought a day would come when I would replace it. But then Shure sent me the MV7 Podcast Microphone and that instantly changed.
The new SM7B mic is not only gorgeous but it is tiny and super powerful like its older SM7B brother. It has features that both professionals and newbies are going to love!
USB over XLR
If you want to plug a mic into your computer obviously you need a cable connection. With the MV7 this can be either an XLR or a micro USB cable which makes this mic appealing to so many more people.
With an XLR cable, you need an interface. You plug your mic into the interface and then from the interface, you plug into the computer.
By having a Micro USB, you can skip out that middle step and plug it directly into your computer. Your computer recognizes it as Shure MV7 without installing any drivers.
Traveling with a laptop? Just plug it straight in.
Traveling with just your phone? plug the MV7 directly into your phone and you have amazing audio for your video and your phone becomes a mobile podcasting station.
The Shure MV7 has a headphone jack too so you can monitor your audio while recording.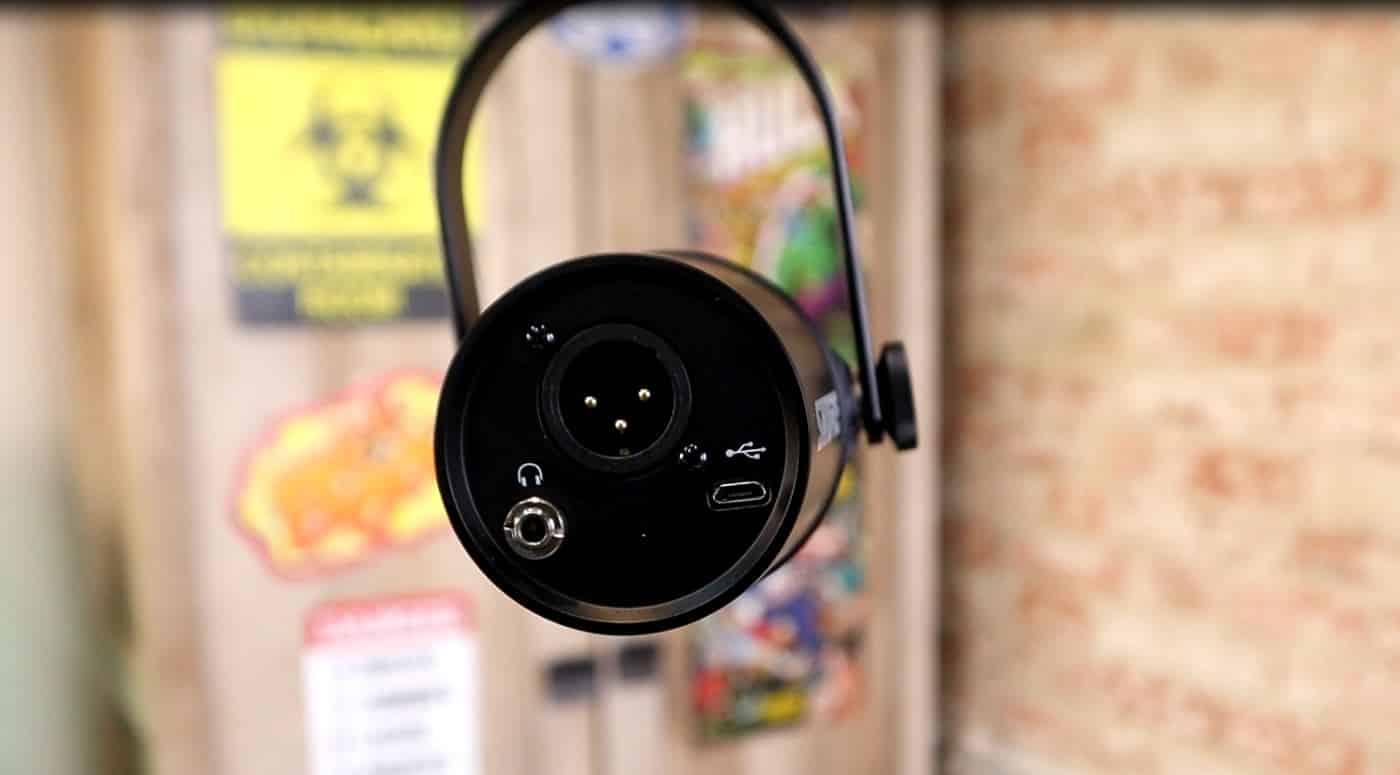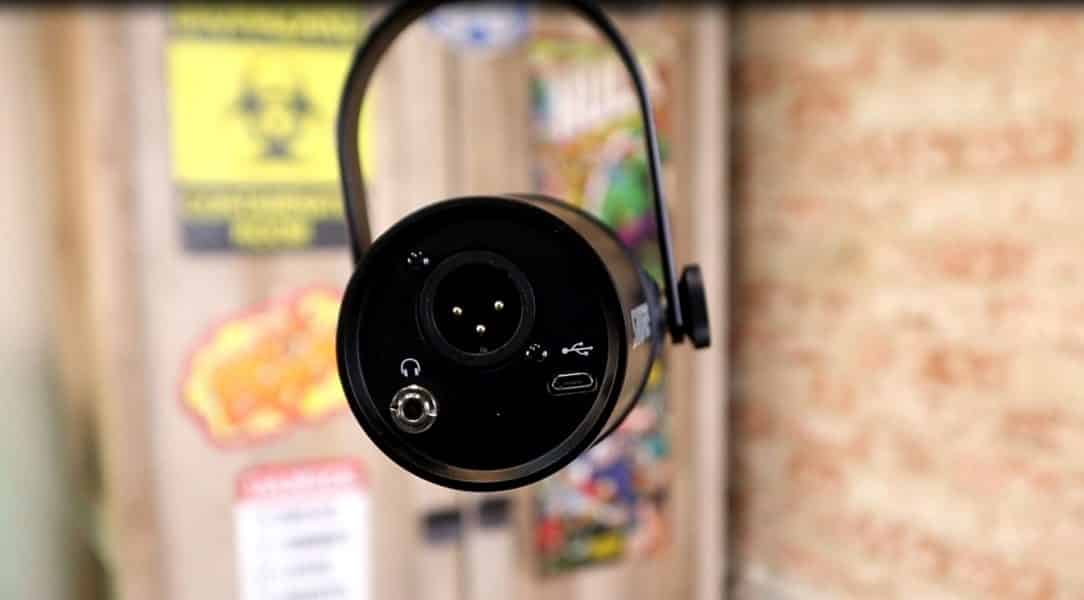 Gain and Headphone volume light up
The top of the MV7 is a set of LED lights.
Run your finger on it to the left and it reduces the gain of the mic. Run your finger to the right and it increases the gain.
Tap the button on the left and it mutes the mic.
On the right is a button that allows you to control the volume of the headphone. Tap on it once, the led turns to orange and you can run your fingers on it to control the headphone volume.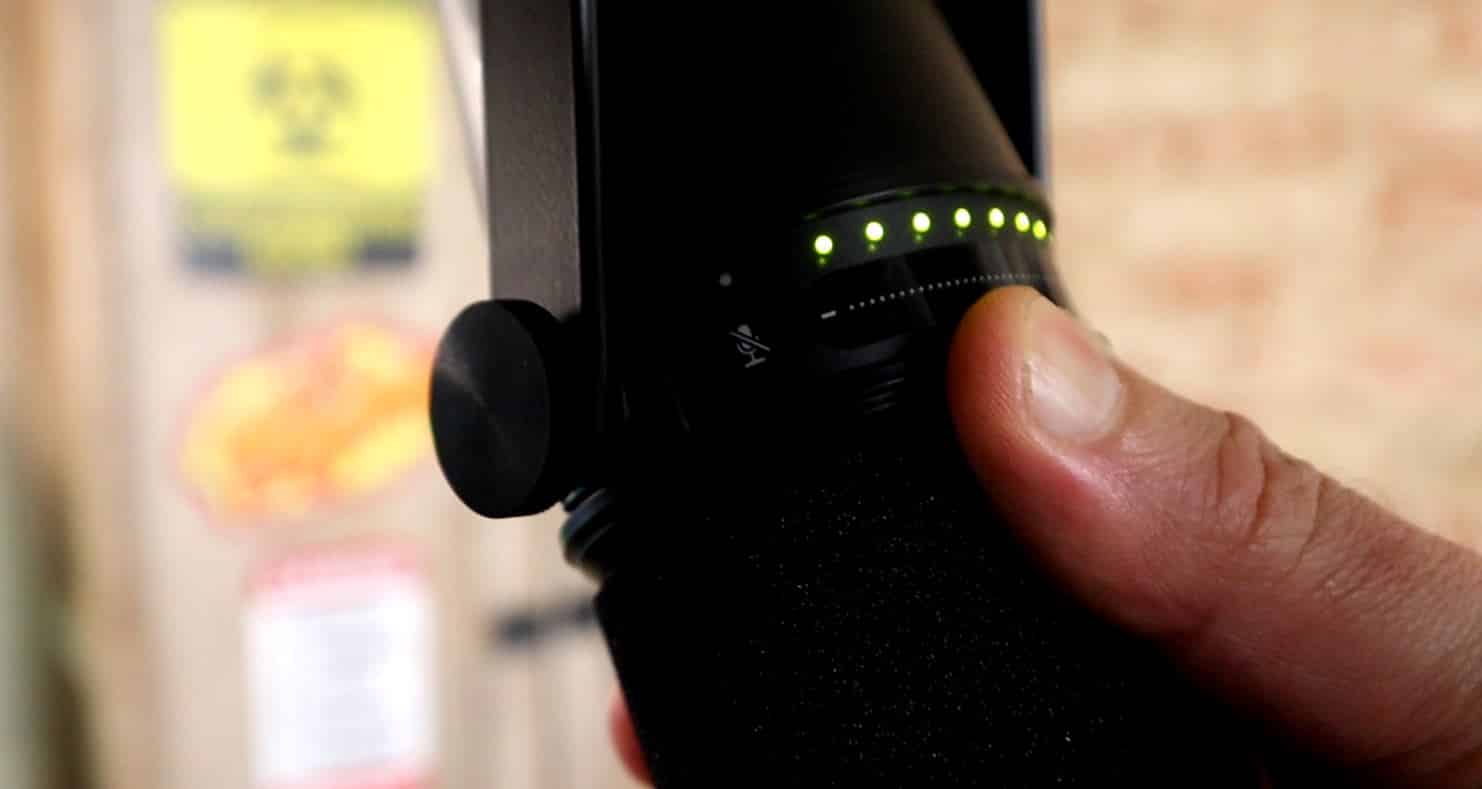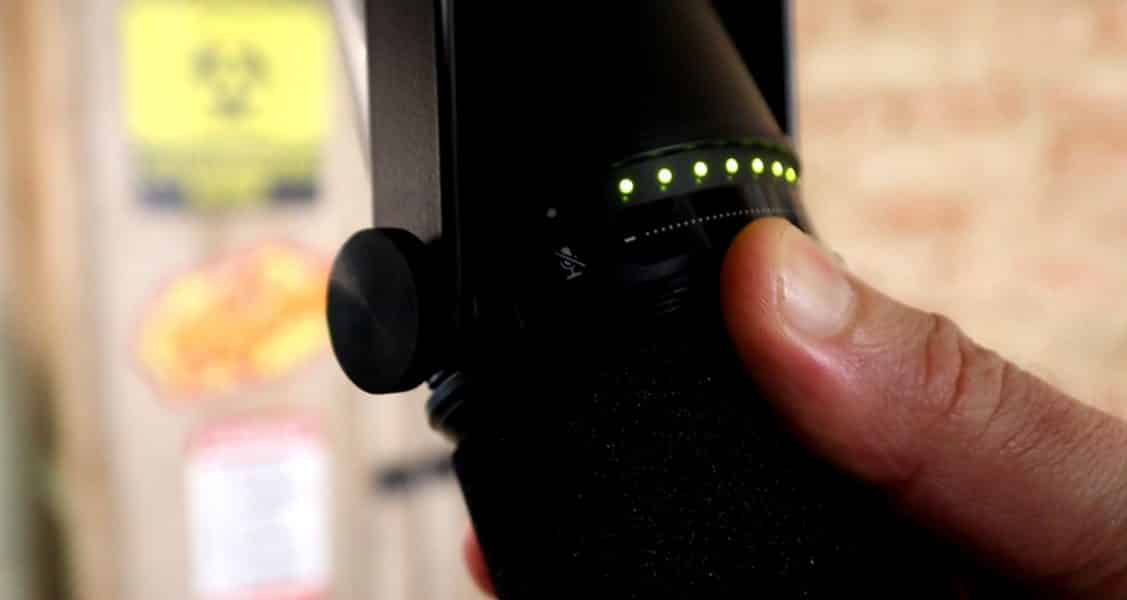 Shure MOTIV App
When you record your podcast or voice over or when you live stream, what you want to be able to control the level of the audio. You don't want it peeking and blasting people's ears as you get ridiculously excited.
When you connect the mic to your computer and set up the Motiv App, you get chose the Auto Level Mode. This means that the software will automatically adjust and keep your volume at the right level.
Those who know what they are doing, can choose the manual mode and have full control of the audio.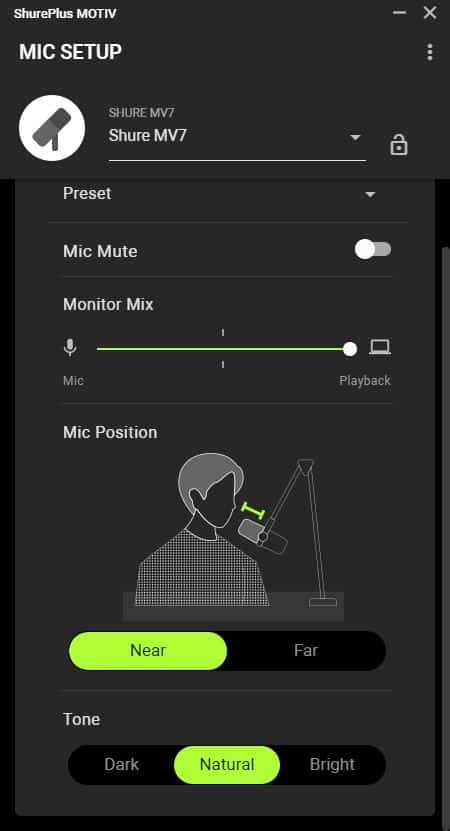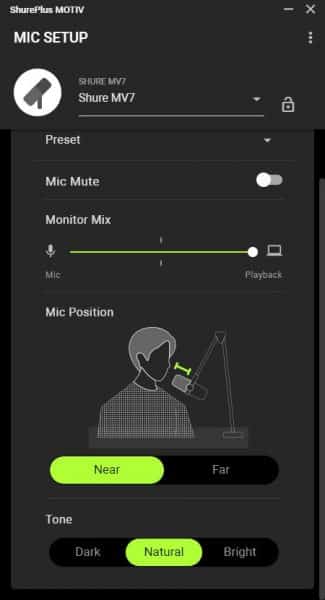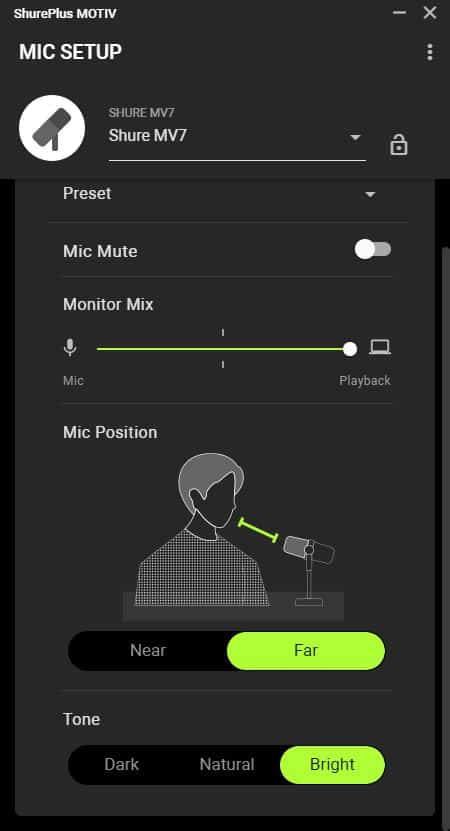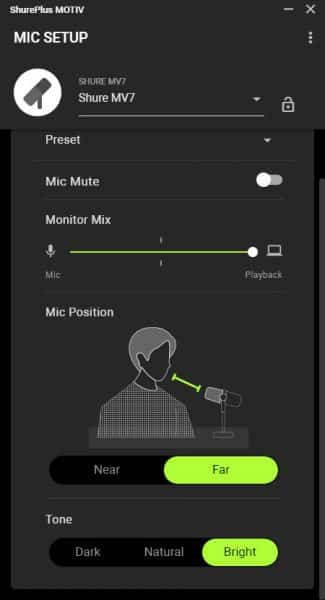 So in summary:
I have been using this mic for a couple of weeks and I love it. Its a real plug-and-play solution that newbies and professionals are going to love. While the Shure SM7B will always have a place in my heart, at $399, its not within everyone's price range; especially when you have to purchase that XLR interface.
The Shure MV7 Podcasting Microphone is a beautiful mic that everyone can get excited about. At $249, this is THE mic to get if you are serious about taking your podcasting, streaming, and youtube to a new audio level!
Get your Shure SM7V here at $249!
Also check out the Shure MV88+ which is the missing link for amazing cell phone audio