Drones are everywhere.
It seems like every time you view a YouTube clip, there is some drone footage in there creating a special aerial cinematic effect. In the past, these types of shots were only possible with helicopters and expensive camera rigs but today, a plethora of drones are available at virtually every price points, allowing every filmmaker the opportunity to get those magic shots from the air.
Drones are incredible technological beasts, but all that tech has to housed somewhere which makes most drones big and bulky and therefore not too practical to be casually carried around. Recognizing this, drone companies have begun to offer foldable drones and one such company is Zerotech which has launched the Dobby. Zerotech kindly sent me a Dobby for two weeks for this review.
The obvious bit
What attracted me to the Dobby was the obvious form factor.It folds up and can be carried in a pocket, handbag or a laptop/camera bag as when it is folded it measures at 135mm × 67mm × 36.8mm and only weighs 199grams. It does not come with a remote control but instead uses an app which controls the drone via WiFi on your Android or iOS device.
The drone is packed with features that you normally find on a much more pricey drone such as: Return to home, auto take off and auto land, face recognition for tracking, orbit around a subject (which is why some of these drones are known as the selfie-drones)  and manual control over camera settings.
Dobby is also equipped with a Sonar and Optical Flow which means it "knows" it's position above the ground and space which makes it simple to fly indoors.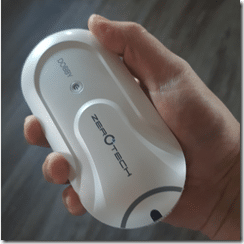 The flying bit
To get Dobby to fly is pretty straight forward. First, power  on the drone by holding the button on the top, open the app on your phone and the two will pair to each other using the WiFi. In the app, you have several ways to control the drone. You can use the phone's motions so when you tilt the phone the drone moves. This is not recommended as the drone seems to constantly moves around as you naturally move your phone around. You can use Stick or Safe Sticks which places two virtual joysticks on the phone. I only used Stick Mode which allowed me to use the virtual joysticks like I would use a regular flying controller. The left joystick is for up and down and rotation and the right joystick is for back and forward, left and right.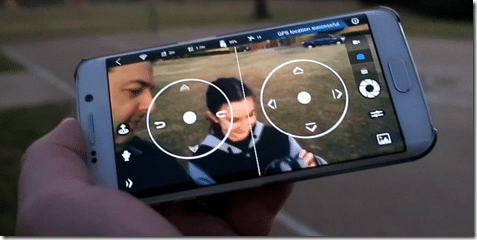 When you are ready to take off, simply hit the take off button and the launches and hovers above the ground at around eye-level waiting for your next command. This is perfect for begginers who can get the feel for flying without worrying about keeping the Dobby up in the air.
When you send the drone up into the air, you can set the drone to track you as you move around. This is a great feature that you can use if you want to get those cinematic overhead shots as you ride your bike or go for a run. Just remember that you need to be in an open area as the drone will not avoid any obstacles while tracking you.
When you want to land, simply get the drone over a safe area and press the landing button. You can even choose to land in your palm – the drone descends and detects your open hand. As it lands it instantly switched off so you don't hurt your fingers – not for the squeamish and the flinchy, but is a cool looking move to do.
Dobby also has a Return to Home feature but remember that it has no sensors to avoid objects so be careful when using this.
The Camera bit
The Dobby has a 4k video camera and a 13MP still camera. The camera can be tilted manually before the flight from facing straight to facing down at varying degrees. The app has various settings that you can set such as White balance, EV, Image Stabilization, single shot or Burst Shot (for non-video footage).
When you want to start recording, on the app there is a video or a still-shot option. Tap the one you want and the images are stored on the Dobby's internal 16GB storage – there is no MicroSD card to deal with. When you want to retrieve your footage, use the app's gallery or connect the MicroUSB cable to Dobby and to your computer.

The Battery bit
The Dobby is powered by 970mAh battery which is clipped underneath the drone. The battery is charged with the supplied charger and take around 45 minutes to fully charge. The drone flys for between 7 and 10 minutes depending on how hard it has to work. Constantly making Dobby move around the sky or in a windy day where it is fighting winds to stay in position will drain the battery much faster. The battery indicator in the app allows you to keep an eye on it but the drop in battery percentage is rapid from 100% to 60% to 20% and it turns red urging you to land the drone. Be aware of this so you don't send your drone too far away with no way of returning home…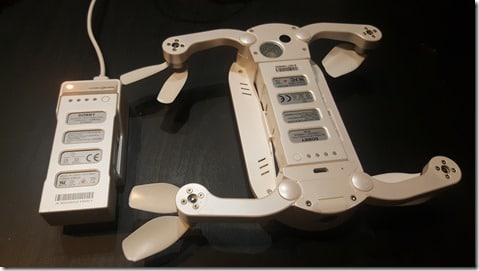 So in summary:
The Dobby is an amazing little drone and comes in at $399 which is not cheap but certainly not top end. You also get lots of advance features for your money and the ability to have the drone with you at all times as its so small and compact. The fact that it is so small means it can live in your camera bag so anywhere you go, you have the option of an aerial shot adding a new dimension to your filming. The Dobby is equally cool for those non-professionals who just want to throw it up in the air at the next family picnic or beach adventure.
The downside is that it only has a short flying time. As you get into the flight and start to enjoy the scenery, you notice the battery meter fading quickly. I would definitely recommend having two or three batteries fully charged so that you can just clip the new one in and get back up there!
It is simple to fly and is ideal starter drone for someone who wants to try their hands at getting into the drone world. The Dobby has decent image quality but due to its little body it does bounce around up there shaking the image. Enabling the image stabilization does help reduce that camera shake. It is nippy and turns really quickly so the operator needs to slow it down to get those panning panoramic scenes.
my wish is that Zerotech would double Dobby's size to accommodate a bigger battery for more flying time – even at that size, it would still be portable and have incredible air-time. Now that would be ideal!