Let's be honest, there are many fitness tracking devices on the market and therefore when TomTom asked us to check out the TomTom Touch, we weren't really sure on what to expect. However, as a highly impressed daily user of the TomTom Spark Cardio [read that review here], I was curious to see what Clare Matthes thought of the unit. This is her report: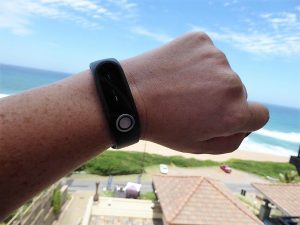 TomTom has introduced the Touch to its range of fitness gear and interestingly enough, this new fitness band is the first to feature a body composition feature.
Compared to some of the fitness trackers on the market currently, the TomTom Touch is small, neat and lightweight. But don't be fooled by its size. It might be little but that definitely doesn't take away from the design and inner workings – it's quite obvious that a lot of thought has gone into the design and functionality of the TomTom Touch.
Body Composition Feature explained 
Excitingly, however, and quite unexpected, the Touch includes a body composition reader which is used to describe the percentages of fat, bone, water and muscle in human bodies.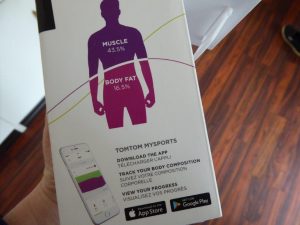 Bear with me here, I'm going to argue a great benefit to sporting that TomTom Touch on your wrist. Practitioners in health industries the world over agree that excess body fat poses a serious health risk, with issues like hypertension, elevated blood lipids (fats and cholesterol), diabetes mellitus, cardiovascular disease, respiratory dysfunction, gall bladder disease, and some joint diseases are all being related to obesity.
Knowing body composition can help determine overall fitness levels and the risk of developing chronic diseases, so it really is useful to know.
Why? You ask – some experts believe measuring by the scale is complete nonsense and sets those trying to lose weight up for failure, especially if you're gaining muscle and losing fat. Knowing your body composition gives you a more reasonable idea of how you're doing, fitness wise and the TomTom Touch provides its user with the information of how well they're advancing towards their fitness goals. The TomTom Touch will give you as accurate a reading as any of those machines at the gym.
The Look and Feel
On the front of the device, there is one silver button. The navigation is done by swiping up or down on the display. Tapping the button wakes the screen and gives you the time. There is also a small icon that looks like shoe prints, just above the clock that'll give you a picture of how far away you are from completing your step goal for the day.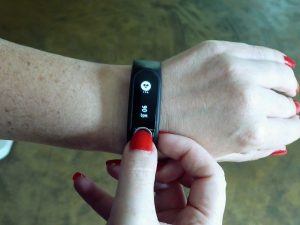 Swiping down from the clock display gives you the number of steps you've taken, the calories you've burned, the distance you've gone, how much time you've spent moving, and how much sleep you had the night before.
Swiping up from the clock display gives you more options: starting an activity, heart rate monitor and the unique body composition item. By placing your finger on the button, you are able to have your body composition or BMI read, this then drives a current through the body to detect what the fat and muscle percentage is. A small tick lets you know that your BMI has been registered but the results are not displayed on the screen. That you will get from the app.
The battery lasts for about five days.
The app itself is user-friendly. You can see your activities in one place, track your progress at-a-glance, get personal insights and dive into the details of your performance, follow trends, beat your best and raise your game with social sharing.
Slight Drawbacks
Unfortunately, the band can't be updated via the app and needs to be connected to a desktop using desktop software, which can be a bit of a headache when you're hoping to use your smartphone only, which most people do.
I also found that taking the watch apart to charge, was a bit of a pest. This might only be because I'm spoilt! I'm so used to charging other fitness trackers or smart watch without the fidgetiness of disassembling them to charge.
So in Summary
All in all, though, the TomTom Touch is an exciting fitness band to enter the fitness market. If you would like to keep track of your activities throughout the day and not just when you work out, then the Touch is a great unintrusive option that blends in. The feature that allows you to glance at the Touch and see your phone's notifications is also handy if you don't want to constantly reach for your phone with every beep.
For South Africa: The cost is $2499 and for more information about the TomTom Touch, head over to the TomTom SA Fitness Tracker page here
For USA: The cost is $129.99 and for more info  head over to the TomTom USA Fitness Tracker page here
---
About Clare Matthes:
Clare's father swears she was born waving spirit fingers and singing tah dah in an oh-so-dahling-showbiz-esque manner. Nicknamed "Schnauze" because of her smart mouth and quick whit, Clare