12 Samsung Galaxy Note 9 S-Pen Tips and Tricks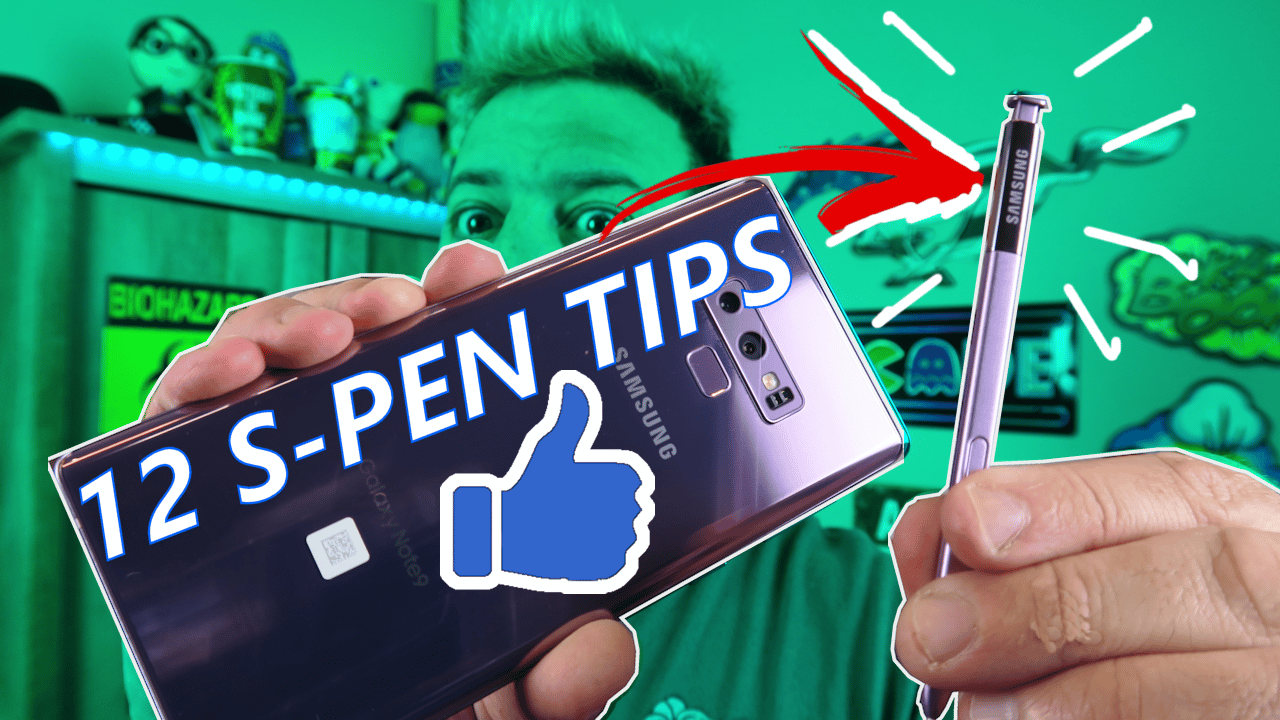 Amongst the multitude of Samsung Galaxy S10 videos,  you might have noticed that many tech reviewers said they were not buying the S10 as they were waiting for the Note 10 to arrive.
It's hardly surprising.
The Note 9 was such a hit amongst consumers worldwide, winning several awards including the "Best Phone of the Year" award by Consumer Reports.
As a Note 1 early adopter, I fell in love with the phablet and especially the S-pen. While most people simply use it to tap around their screen, there are so many features, tips and tricks you need to know that will make the Note 9 experience that much better.
Here are 12 Samsung Galaxy Note 9 S-Pen Tips and Tricks every Note 9 owner should know:
While the video contains all 12 features, here are some of the highlights you can try right now:
S-Pen Removal
Naturally, when the S-pen is removed it'll open a notepad so you can quickly make a note. If you'd rather that it launches another app, you can do so under the "when the S Pen is removed" option.
You could also change it to do nothing. As strange as that sounds, you might want it not to do anything so you can select which app to open. 
Screen off Memo
Another great feature is that you can use to quickly write notes, while your screen is turned off. Just make sure the "screen off memo" option is turned on.
In order to utilize this feature, remove the S-pen from its storage space, and just start writing on the lock screen. When you're done, just click "save note" at the top right corner.
Translate Languages
From the hovering pen icon, you can select "translate." which is really convenient when dealing with foreign-language documents. Just select the languages then hover any text you want to translate and it'll do it for you. You'll also find a speaker icon, which if tapped, will pronounce the highlighted word.
Write Your Messages
Hover over a text box with your S-pen and it'll show you a "T." Click on it to be able to write and the phone will automatically convert it to regular text on its own. This is a feature that can make texting more convenient for those who don't like using the on-screen keyboard.
I am also amazed at how the Galaxy Note 9 is able to decipher my handwriting!
Edit Screenshots
From the pen icon on the screen, select "screen write" to capture a screenshot, then write or draw over it using multiple font and color settings. Alternatively, you can use "screen select" to crop a particular area of your screenshot in order to be able to save and share it. You can also combine both features with ease.
PENUP
Adult coloring books are all the rage for killing time or for destressing, so why not to that on your phone? Search for an app called PENUP. If it's not installed, download it from the Samsung App Store. 
Now you have something to do when you are waiting in a queue, waiting for the kids to finish school and any other waiting time…
So in summary
The Galaxy Note 9's S-Pen is magnificent and it made my life so much easier. With so many options and customizations, there's no limit to what you can set it to do in order to suit your daily tasks.
I urge you to explore your Note 9 beyond just using the S-pen to click. You will soon discover how powerful it can be!
The Samsung Note 9 is still an amazing buy so definitely check it out as an option!