This post is sponsored by the cool people at Turtle Beach.
Ok Gamers – it's time for a serious upgrade.
I am more of a "where the heck is R2 button again" PlayStation 4 kinda-of-player. I occasionally get online and find some friends and shoot at things and when we are deep in enemy territory, we coordinate our attacks and often scream random stuff into the headset. In the pandemonium that ensures I usually cannot hear or understand what is being said/ screamed and I put that down to the internet connection acting up.
I was wrong.
Since I got my PlayStation I have been using that little earpiece and mic that arrived with the PS4. The one that looks like cell phone headphones. I never understood why "gamers" spend money on buying a headset when this one works perfectly fine.
I was recently sent the RECON CHAT from Turtle Beach and now I am a transformed gamer!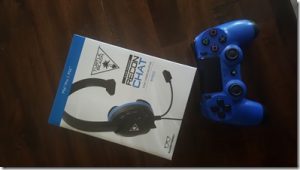 Here is why:
Firstly, the headset is light and comfortable. It doesn't feel like your head is constantly being squished like a teenager pimple which is critical as gaming isn't a 10-minute adventure – a mission can last for hours and you need your noggin not to hurt. Duh.
What is also smart is that the RECON CHAT has SpecsFit™ which makes the design "glasses friendly". This means that when my kids wear glasses when they play, there is no pressure from the headset that pushes their glasses onto their head.
Setting up the RECON CHAT is simple. Just has one open ear-cup but you can select to cover either the left or the right ear. Then slide the top of the headset into the ear-cup bracket and adjust to suit your head. Simply plug the 3.5mm jack into the controller and within seconds you are ready to game.
The RECON CHAT has a unique design that allows you to hear sounds from the TV or home entertainment system in stereo and still can hear your game-play chats via the 40mm ear-cup speaker. And the audio quality is superb.
While wearing the RECON CHAT, the background music is somehow clearer and less muffled, and in-game character audio sounds amazing. But the headset really shines when it comes to in-game chats. Chats are crystal clear and when I bark my orders into the built-in adjustable mic, the squad can hear me perfectly. I even heard a "Sir, yes sir" and a "wow you sound so different" from another player. The mic has an off/on toggle, and a volume controller too so you can control everything with one hand.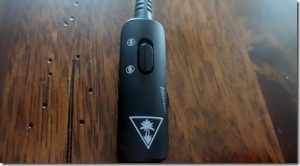 It's no wonder that Turtle Beach is the category leader in console Gaming Headsets and they make headset across all player levels. This one can be used on the Xbox One and anything else that uses a 3.5mm headphone jack like a cell phone.
I am now an informed and impressed gamer and am ready for the next mission and can proudly inform you that if you are still using the old headset, dump it and get into the game with the RECON CHAT.
Note: Turtle Beach sent me the RECON CHAT for review and they sponsored this post. The views above are my own from my own experience with the headset.