If you subscribe to an "On Demand" streaming service, you know the pain of binge watching your favorite shows on the laptop screen.
Connecting the laptop to your big screen TV is great, but you hate having to get up just to pause the show, or to use the mouse to click to the next show…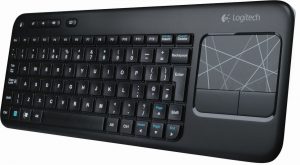 Now there is a superb solution –  Logitech Wireless Touch Keyboard K40. It is a wireless keyboard that allows you to control your laptop AND the mouse from the comfort of your lap (and without having to get up).
Win this keyboard now! (sorry this is open to South Africans only….)

You can win one of these amazing Logitech® Wireless Touch Keyboard K400 valued at R699 keyboards below, but if you don't, just pop into your nearest HiFi Corp and get one of these wireless keyboards to change your viewing experience forever.
Logitech wireless touch keyboard