Toshiba has really earned its reputation for creating products that don't compromise on performance, connectivity, features, battery life or durability.  The latest additions to the Toshiba range echo exactly the same sentiments. Our own Clare Matthes attended the recent product experience media event where Toshiba South Africa revealed the all new and very impressive Portégé X20W-D, Portégé X30 and Tecra X40 range of laptops. This is her report:
Complete with ultra-sleek, flexible, light-weight designs, the laptops have been considered, produced and rigorously tested entirely by Toshiba. They are elegantly engineered and provide premium, powerful and secure experiences for professionals.
"We developed the Portégé X20W-D as part of our drive to create the best hybrid 2-in-1 laptop experience for professionals, from employees in small to mid-size organisations, to large corporate environments – regardless of their location," said Ronald Ravel, Business Unit Director – PC B2B, Toshiba South Africa.
"The Portégé X30 and Tecra X40 are the result of us channeling our heritage and expertise in mobile devices into every step of the development process, from design and manufacturing, to durability testing, and we're confident this will shine through in the premium, professional experience they provide."
Recent IDC research highlighted that Africa's PC market during Q4 of 2016 increased, despite a worldwide year-on-year decline of 1.5%. This shows that there's still a strong demand for PC's in the workplace and Africa being one of the few regions with stable growth. In addition, this past festive season sparked a rise in sales of traditional PCs, as the entire EMEA region experienced a favourable market performance, as laptops grew above the initial forecast.
"One area Toshiba truly dedicates its time on is R&D for innovative technology solutions. With a team of highly skilled engineers and designers devoted to developing cutting edge technology, we are able to develop systems that are all about revolutionising and enriching all our business user's needs. We are committed to going beyond the limitations and constraints of today's PC and redefine how you control your systems," concludes Ravel.
The X Series range:
The Portégé X20W-D laptop, measuring in at 15.4mm thin and 1.1 kg, offers professionals flexibility of a tablet and notepad in one sleek device with a beautiful onyx blue cover and light gold hinges. Toshiba's Portégé X20W-D is elegantly engineered, offering style and substance: with an astonishing 16-hour battery life. It has comprehensive security features, including two-factor authentication with a fingerprint reader and IR camera for face recognition.
The Portégé X30 is 15.9mm thick and weighs in at just over one kilogram, making the machine 11% thinner and 13% lighter than the award-winning Z30. The Tecra X40, on the other hand, measures in at 16.9mm and weighs just over one kilogram. Both the Portégé X30 and Tecra X40 are the latest examples of Toshiba's ability to innovate the thin and light laptop form factor without sacrificing performance, features, battery life or durability. Not only are the machines similar in overall dimensions, they share many of the same components and features.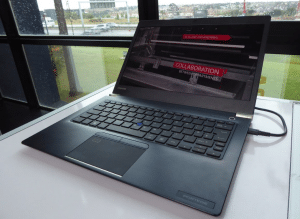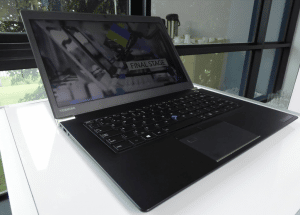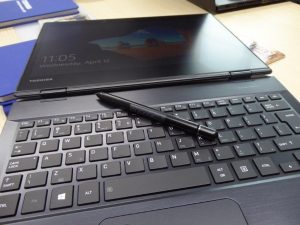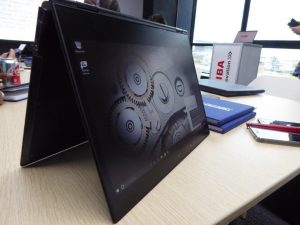 When will the Toshiba Portégé  be Available in South Africa and how much will it cost ?
The Portégé X20W is already available in South Africa and is expected to carry the price tag of around R22 999. The X30 should cost around R14 999 and should be available by June, while the X40, expected to cost around the same as the X30, should be available around June.
Specifications:
The Portégé X20W
The Portégé X30
The Portégé X40

Processor: 7th Generation Intel® Core i3, i5 or i7 and Core i5 and i7 vPro (U-Series)
Operating system: Windows 10 Pro 64 Bit
Display: 12.5" Non-reflective FHD In Plane Switching Display with Touch (Corning Gorilla Glass 4)
Storage: Up to 512GB M.2 SSD (SATA/PCIe x4)
Memory: Up to 16GB LPDDR3 RAM
Graphics: Intel® HD Graphics 620
Ports: USB Type-C with Thunderbolt 3, USB 3.0 with Sleep & Charge, 3.5mm audio
Communication: Intel® Dual Band Wireless-AC 8265 with Bluetooth 4.2, WiGig optional
Battery life: Up to 16.5 hours (MM 2014)
Webcam: IR-camera with Dual Mic for Windows Hello and Intel Authenticate
Keyboard: Backlight Keyboard w/ ClickPad (Accupoint) or Secure Pad including Fingerprint Reader (Accupoint)
Speakers: Harman/Kardon stereo speaker w/ DTS audio enhancement
Security: TPM 2.0, Intel vPro, Security Lock, Device & Credential Guard support, Toshiba BIOS
Size & weight: 299 x 219 x 15.4 mm, 1,100g
Pen: Pervasive Pen by Wacom (AES pen) for Windows Ink support as BTO
Price: R22 999.

Processor: 7th Generation Intel® Core i3, i5 or i7 and Core i5 and i7 vPro (U-Series)
Operating system: Windows 10 Pro 64 Bit
Display: 13.3" Non-reflective FHD (In Plane Switching) Display w/ new In-Cell Touch technology
Storage: Up to 512GB M.2 SSD (SATA/PCIe x4)
Memory: Up to 32GB DDR4 RAM
Graphics: Intel® HD Graphics 620
Ports: 2x USB Type-C (USB3.1Gen2/PD/DP/Thunderbolt 3), 1x USB3.0 Type-A with Sleep & Charge, Full- size HDMI, Micro-SD, Smartcard reader as BTO, 4G SIM-card slot, Audio combo
Communication: Intel® Dual Band Wireless-AC 8265 with Bluetooth 4.2, WiGig optional, 4G/LTE
Battery life: Up to 18 hours (MM 2014)
Webcam: IR-camera with Dual Mic for Windows Hello and Intel Authenticate
Keyboard: Backlight Keyboard w/ ClickPad (Accupoint) or Secure Pad including Fingerprint Reader (Accupoint)
Speakers: Harman/Kardon stereo speaker w/ DTS audio enhancement
Security: TPM 2.0, Intel vPro, Security Lock, Device & Credential Guard support, Toshiba BIOS
Size & weight: 316 x 227 x 15.9mm, 1,050g
Price: R14 999

Processor: 7th Generation Intel® Core i3, i5 or i7 and Core i5 and i7 vPro (U-Series)
Operating system: Windows 10 Pro 64 Bit
Display: 14" Non-reflective FHD (In Plane Switching) Display w/ new In-Cell Touch technology

Storage: Up to 512GB M.2 SSD (SATA/PCIe x4)
Memory: Up to 32GB DDR4 RAM
Graphics: Intel® HD Graphics 620
Ports: 2x USB Type-C (USB3.1Gen2/PD/DP/Thunderbolt 3), 1x USB3.0 Type-A with Sleep & Charge, Full- size HDMI, Micro-SD, Smartcard reader as BTO, 4G SIM-card slot, Audio combo
Communication: Intel® Dual Band Wireless-AC 8265 with Bluetooth 4.2, WiGig optional, 4G/LTE
Battery life: Up to 14 hours (MM 2014)
Webcam: IR-camera with Dual Mic for Windows Hello and Intel Authenticate
Keyboard: Backlight Keyboard w/ ClickPad (Accupoint) or Secure Pad including Fingerprint Reader (Accupoint)
Speakers: Harman/Kardon stereo speaker w/ DTS audio enhancement
Security: TPM 2.0, Intel vPro, Security Lock, Device & Credential Guard support, Toshiba BIOS
Size & Weight: 333 x 229 x 15.9mm, 1,250g
Price: R14 999
---
About Clare Matthes:
Clare's father swears she was born waving spirit fingers and singing tah dah in an oh-so-dahling-showbiz-esque manner. Nicknamed "Schnauze" because of her smart mouth and quick whit, Clare